Fancy Text Generator
Convert regular font into a stylish and fancy font with a fancy font generator for FREE!
What is the Fancy Text Generator Tool?
Fancy Text Generator is a free-to-use online tool that allows you to make cool and stylish fonts from regular text. You can easily copy and paste anywhere.
---
How can I generate Fancy & Stylish Text?
You can generate cool fancy text by typing your text into the textbox and clicking the "Generate" button. Your text will be transformed into various types of stylish fonts.
---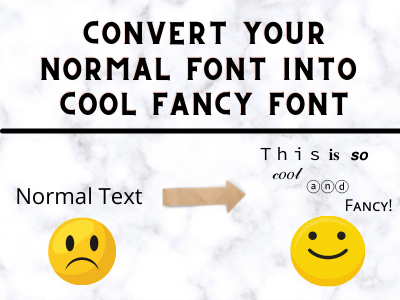 What kind of fonts is available to use?
Our "Fancy Text Generator" tool offers a lot of the latest stylish and fancy fonts that can be used all over the internet. We regularly update the fonts and text styles to provide you with the best possible. You can also suggest or submit more fonts by contacting us on the "Contact Us" page. We have every kind of font that includes:

Aesthetic
Cursive
Small caps (Also known as Small Capitals)
Double Struck
Bold
Italic
Distorted
and much more amazing fonts.
---
What should I do after my fancy text is generated?
Our tool helps you copy-paste any fancy font anywhere. Once your fancy font is generated, you can click the "Copy" button next to your favorite font. The fancy font will be copied to your clipboard. Now you can paste your stylish font anywhere on the internet. Whether it is:

Instagram Bio
Discord
Free Fire
PUBG
Agar.io
Facebook
---
How To Get Fancy Text On Instagram?
If you want to stand out on Instagram? Give out the best first impression? Convert visitors into your followers? If yes, then you need to stand out and be unique. You can use our "Fancy Font Generator" For Instagram as well. You can turn your profile into an extraordinary profile by changing your Instagram profile's account name and your Instagram bio to the fancy font. Generated cool fonts can be copied and pasted so you don't need to worry about anything technical and it works 100%.
---